For More Than 60 Years, the Yellow Chick Has Been a Sweet Sign of Spring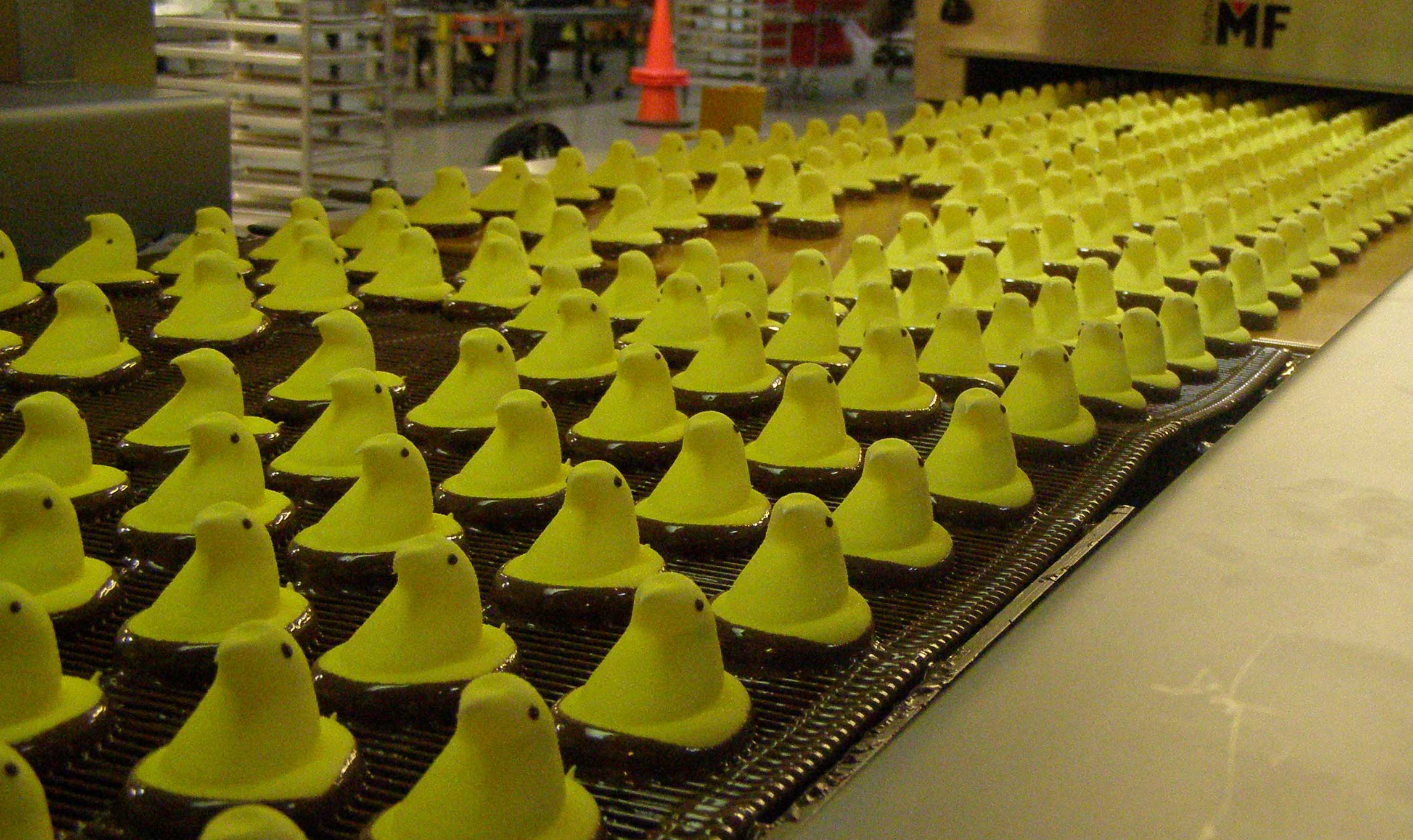 Bethlehem, PA. — March 10, 2015 —The spring season is finally upon us and the candy connoisseurs at Just Born Quality Confections continue to whip up new PEEPS® flavors and products to fit every PEEPSONALITY®! With more than a dozen different product varieties available in numerous colors, shapes and flavors, the versatile marshmallow treat is sure to show up in Easter baskets, artwork and recipes and as always, the star of dioramas. Regardless of how they are used, the nostalgic favorite is sure to bring smiles to fans of all ages.
PEEPS® is offering an assortment of products to make spring's arrival sweet and colorful. New for 2015 are PEEPS® Decorated Marshmallow Eggs, white eggs adorned with pastel colors in three unique designs. PEEPS® also created exclusive flavors for select retailers including, lemon, orange and lime flavors each dipped in fudge, and even mystery-flavored Chicks and Bunnies! These flavors are added to the already extensive product portfolio that includes multiple chocolate varieties and of course, the iconic Chicks and Bunnies in a variety of bright colors.
For generations, PEEPS® Marshmallow Chicks have been a spring staple, which has inspired fans to express their PEEPSONALITY® in different ways, beyond filling Easter baskets with the iconic marshmallow shapes. PEEPS® fans have found that their favorite marshmallow Easter candy is ideal as additions to baked goods, beverage toppers, decorative accents for craft projects and dioramas, or simply savored as a sweet treat all on their own. PEEPS® fans can visit www.marshmallowpeeps.comto find delicious recipes and fun craft ideas, such as the Betty Crocker™ PEEPS® Easter Garden Cake or festive PEEPS® centerpieces perfect for family get-togethers this spring! PEEPS® fans can also share ideas with one another and engage with the brand on various social media channels including, Facebook, Twitter, Instagram and Pinterest, using "PeepsBrand."
"PEEPS® is dedicated to offering our fans a variety of products, looking to the latest flavor trends to inspire new and exciting innovations," said Noelle Porcoro, Senior Brand Manager for PEEPS®. "Fans love to try our new flavors hitting shelves each Easter, in addition to excitedly awaiting the return of their favorite colors of the classic Chicks and Bunnies."
Here are a few fun facts on America's favorite marshmallow Chick:
In 1953, it took 27 hours to create one PEEPS® Marshmallow Chick, by hand with a pastry tube. Today, thanks to the founder's son, Bob Born, and advances in technology it takes roughly six minutes.
Due to popular demand, white PEEPS® Chicks are making a comeback after a 10 year hiatus.
Chicks rule! 4 out of every 5 PEEPS® purchased are Chicks – either original, flavored, dipped in chocolate or covered in chocolate.
Yellow is America's best-selling color of PEEPS® Chicks and Bunnies, followed by pink and then blue.
Just Born produces enough PEEPS® Brand Marshmallow Candies in one year to circle the earth three times.
PEEPS® fans can find all of these items at retailers nationwide in the seasonal candy section or through www.peepsandcompany.com, where they can also find PEEPS®-themed merchandise and apparel. Fans can also visit one of three PEEPS & COMPANY® retail stores located in Bethlehem, PA, National Harbor, MD and the Mall of America in Bloomington, MN. Follow us on Twitter.com/PEEPSBrand, Instagram.com/PEEPSBrandand Pinterest.com/PeepsBrand and Like us on Facebook.com/PeepsBrand to learn about more ways to express your PEEPSONALITY®!
About Just Born Quality Confections
Just Born Quality Confections is a privately owned company founded in 1923 and headquartered in Bethlehem, PA, where it manufactures PEEPS®, HOT TAMALES® and MIKE AND IKE® Brand candies. GOLDENBERG'S® PEANUT CHEWS® Brand candies are produced in Philadelphia, PA. In 2015, theMIKE AND IKE® Brand celebrates its 75th Anniversary, while the HOT TAMALES® Brandcelebrates its 65th anniversary. All Just Born candies are made in the U.S.A.
About Betty Crocker™
Since her creation in 1921, Betty Crocker has enjoyed a distinguished history as a multimedia superstar. Featured in radio, TV, print and now online, this cultural icon has rightfully earned her reputation as the "Original First Lady of Food." Since first published in 1942, over 75 million Betty Crocker cookbooks have been sold. BettyCrocker.com is one of the top websites in the food category and the Betty Crocker Facebook community has nearly 3 million fans. Betty Crocker™ branded products garner over $1 billion in sales annually. For more information, visit bettycrocker.com.