Our History
Just Born is a family-owned candy manufacturer that has been in business since 1923 and through three generations. We make some of the most beloved and iconic candy brands: PEEPS®, MIKE AND IKE®, HOT TAMALES® and GOLDENBERG'S® PEANUT CHEWS® Candy Brands.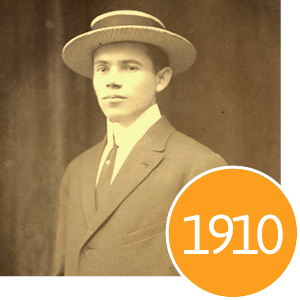 Sam Born, candy maker, comes to the US
Sam Born, who grew up in Russia, immigrated to the United States from France. Born introduced "French Chocolates" to New York City. A candy maker by trade, Born was responsible for many innovations including the technology to produce chocolate sprinkles, known as Jimmies; the hard chocolate coating used for Eskimo Pies; and was given the keys to the city of San Francisco in 1916 for inventing a machine that mechanically inserted sticks into lollipops called the Born sucker machine.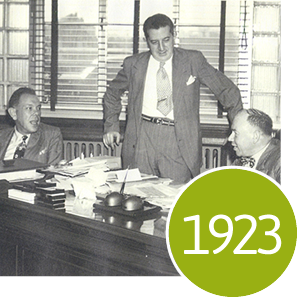 Sam Born opens retail shop in New York
Born opened a small retail store and factory in Brooklyn, New York. Ever the entrepreneur, he proudly displayed in his store window an evolving line of daily made candy, marketing its freshness with a sign that declared, "just born". Additionally, Born's brothers-in-law, Irv and Jack Shaffer, joined the company shortly after the retail store opened.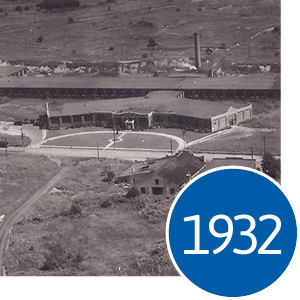 Just Born relocates to Bethlehem, PA
The company thrived in spite of the Great Depression, and in 1932, Just Born moved its operations to an empty printing factory in Bethlehem, Pennsylvania, where it soon became another important employment source for this well-known steel town.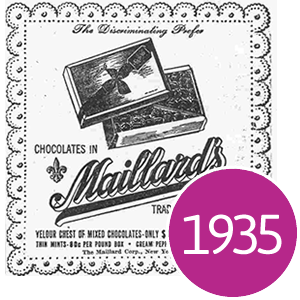 Just Born acquires the Maillard Corporation
Just Born grew significantly through the acquisition of other candy companies. The first important acquisition was the prestigious Maillard Corporation in 1935. Maillard was well known for its elegant, hand-decorated chocolates, crystallized fruits, Venetian mints, jellies and "the best bridge mix in the country."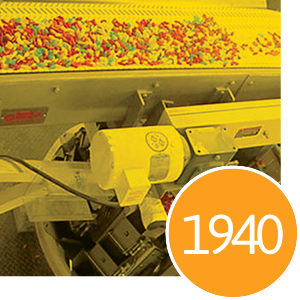 MIKE AND IKE®
MIKE AND IKE® Original Fruits chewy assorted fruit flavored candies were introduced in 1940. Over the years, Just Born expanded the brand to include a variety of other flavor assortments.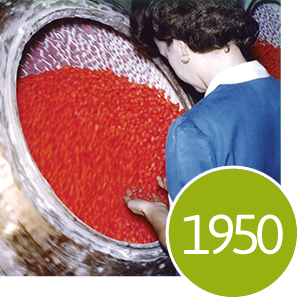 HOT TAMALES®
The very popular, spicy, cinnamon-flavored chewy HOT TAMALES® candies were introduced in 1950. HOT TAMALES® still remains the number one chewy cinnamon confection in the U.S. today!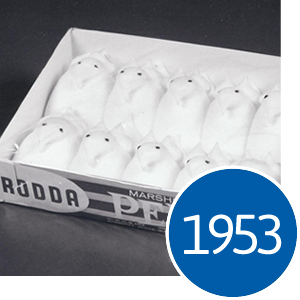 PEEPS®
Just Born acquired the Rodda Candy Company of Lancaster, Pennsylvania in 1953. Although better known for its jelly bean technology, Rodda also made a small line of marshmallow products that intrigued the Just Born family. A popular three dimensional marshmallow chick was made by laboriously hand-squeezing marshmallow through pastry tubes. Sam Born's son Bob, who had joined the company in 1946, helped to mechanize the marshmallow forming process a year after buying the company. As a result, what once took 27 hours to produce and package, the iconic PEEPS® chick now only takes 6 minutes. Just Born now makes marshmallow candies in a variety of shapes for Easter, Halloween, Christmas, Valentine's Day and summer.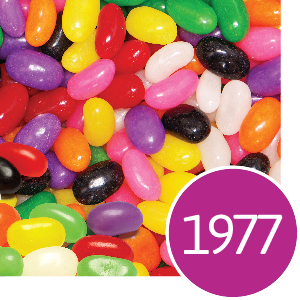 TEENEE BEANEE®
In 1977, Just Born also capitalized on Rodda's jelly bean expertise by introducing TEENEE BEANEE® gourmet jelly beans.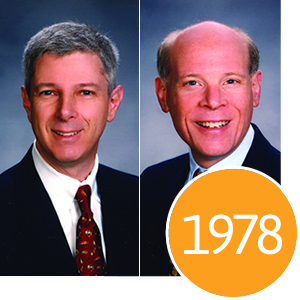 Family legacy continues
Ross Born, 3rd generation and David Shaffer, 2nd generation joined Just Born in 1978. After more than a decade of shared responsibility with their fathers, they became Just Born's co-presidents in 1992.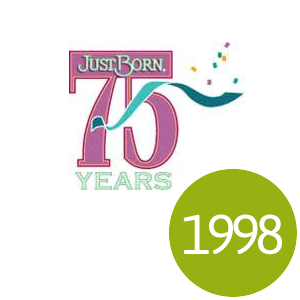 Just Born celebrates 75th anniversary
In honor of the 75th anniversary, the company reintroduced two limited edition products from many years before – MIKE AND IKE® COOL KIDS® Spearmint Flavored Candies and MIKE AND IKE® ROOT T TOOT Root beer Flavored Candies.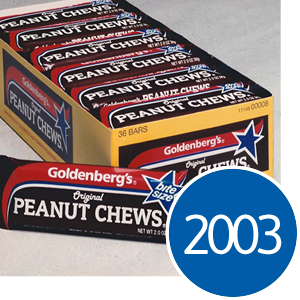 Just Born acquires Goldenberg Candy Company
Just Born acquires the legendary Philadelphia candy brand GOLDENBERG'S® PEANUT CHEWS® from the Goldenberg family.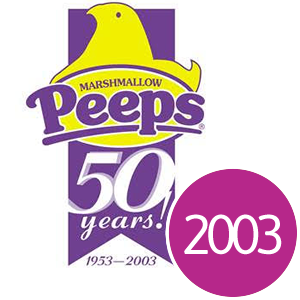 PEEPS® celebrates 50th anniversary
The PEEPS® brand turned 50 years old and celebrated the milestone all year long. Activities included TV advertising at all seasons, two PEEPS® fun buses and the PEEPSMOBILE® that toured the country all year, special limited edition 50th anniversary PEEPS® and a float in the Macy's Thanksgiving Day Parade.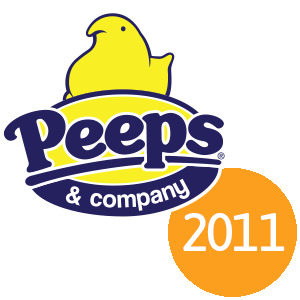 Just Born opens the first PEEPS & COMPANY® Online Store
Capitalizing on the strength of the PEEPS® brand, Just Born opened its online store, PEEPS AND COMPANY® in 2011. The store showcases all of Just Born's candy brands and appropriate non-candy branded merchandise.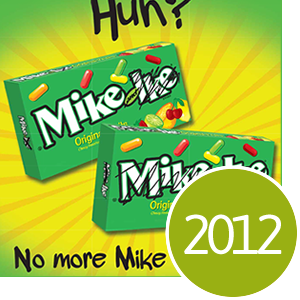 Legendary Candy Duo Mike and Ike of MIKE AND IKE® candy split up
In the spring of 2012, candy legends Mike and Ike decided to go their separate ways. Mike left to pursue his love of music and Ike left to pursue his love of art. Just Born continued to produce the candy in their absence. Thankfully they reunited a year later.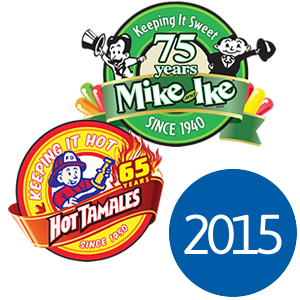 MIKE AND IKE celebrates 75th anniversary & HOT TAMALES® celebrates 65th anniversary
MIKE AND IKE® celebrated 75 years of fruit flavored fun, while HOT TAMALES® marked 65 years of firing up fans with cinnamon-flavored heat. The iconic brands continue to be two of America's most enduring candies. To honor these special occasions, both MIKE AND IKE® and HOT TAMALES® products appeared on shelves in vintage packaging – a throwback to when each brand was born.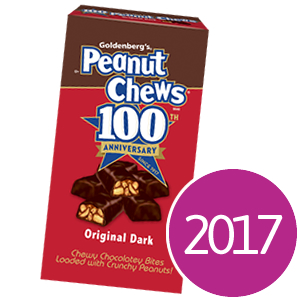 GOLDENBERG'S® PEANUT CHEWS® celebrates 100th anniversary
GOLDENBERG'S® PEANUT CHEWS® celebrated its 100th Year Anniversary in 2017! Launched in 1917 by the Goldenberg family, PEANUT CHEWS® were first made as a WWI ration for the U.S. Military. Since then and for the past 100 years, the brand has continued to make great candy and provide its fans with "Chewy Chocolatey Bites Loaded with Crunchy Peanuts!TM". To celebrate this exciting milestone, the brand had messaging and consumer activations throughout the year to engage with its fans and invite them to become a part of the historic anniversary.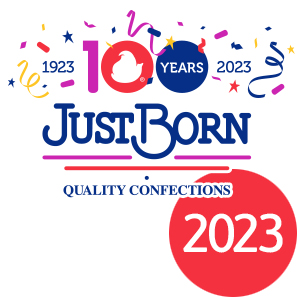 Just Born Quality Confections celebrates a Century of Sweetness!
In 2023, Just Born Quality Confections celebrated a Century of Sweetness! To commemorate our 100th Anniversary, we celebrated our sweet past, committed to a sweeter tomorrow, and thanked our sweetest supporters who helped us achieve this milestone. As we head into the next century, we continue to make your favorite treats – PEEPS®, MIKE AND IKE®, HOT TAMALES® and GOLDENBERG'S® PEANUT CHEWS® and we proudly continue to be a 3rd generation family-owned company.