JUST BORN Fun Facts
Just Born got its name when founder, Sam Born, proudly displayed in his store window an evolving line of daily-made candy, declaring them "just born".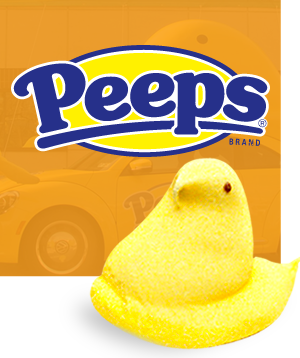 PEEPS® Fun Facts
The PEEPS® Brand celebrated its 65th anniversary in 2018.
In 1953, it took 27 hours to create one PEEPS® Marshmallow Chick.  Today, thanks to advances in technology, it takes six minutes.
Just Born produces enough PEEPS® Brand Marshmallow Candies in one year to circle the earth twice.
In the late 1950s PEEPS® wings were "clipped" to give them a sleek, modern look.
PEEPS® Brand Candies have been the #1 non-chocolate brand at Easter for more than 20 years*.
Yellow is America's best selling color of PEEPS® Chicks and Bunnies.
Yellow and white PEEPS® Chicks and Bunnies came first, followed by pink, lavender, blue, green and orange.
If you had 8,000 PEEPS® Bunnies, and you stood them in a straight vertical line, you could reach the top of the Willis Tower (formerly the Sears Tower) in Chicago.
Each PEEPS® Chick has 28 calories and Bunnies have 27.5 calories.  Both have 0 grams of fat.
Chocolate Dipped and Chocolate Covered PEEPS® Chicks were introduced for Easter 2010.
PEEPS® branded products have made celebrity appearances on many programs including: Good Morning America, The Today Show, CBS Sunday Morning, The Early Show, Martha Stewart, The Ellen DeGeneres Show, South Park, Jeopardy and The Daily Show.
Some celebrity PEEPS® fans include Justin Bieber, Miranda Cosgrove, Joe Jonas, and Dylan Lauren.
*IRI Multi-Outlet Data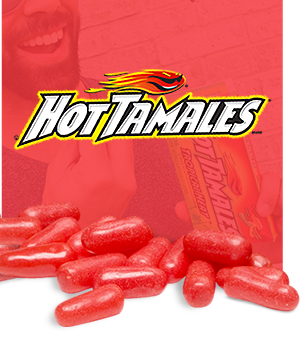 HOT TAMALES® Fun Facts
HOT TAMALES® Brand was introduced in 1950.
HOT TAMALES® Brand is the #1 cinnamon flavored candy brand in the US.*
Each HOT TAMALES® Fierce Cinnamon flavored chewy candy has only 7 calories and 0 grams of fat.
The HOT TAMALES® name was derived from its spicy cinnamon flavor.
HOT TAMALES® have made star TV appearances on The Office, Jeopardy, Howard Stern, Food Network's 'Unwrapped', and FYI's 'Food Factory'.
Some celebrity HOT TAMALES® fans include Khloe Kardashian, Kris Kardashian, Ellen DeGeneres, Madonna, Busy Philipps, Sofia Vergara, Scarlett Johansson, Julianne Hough, Randy Moss, La Toya Jackson, and Stacey London.
*BASED ON NATIONAL SALES DATA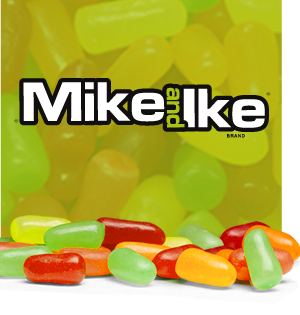 MIKE AND IKE® Fun Facts
 MIKE AND IKE® Brand was introduced in 1940.
Each MIKE AND IKE® chewy candy has only 6 calories and 0 grams of fat.
More than 8.7 million pieces of MIKE AND IKE® candies are produced during a typical 7-hour school day.
Red is the most preferred candy color by consumers, and MIKE AND IKE® has more than 10 shades to choose from.
If you lined up each piece of MIKE AND IKE® candies produced in one year end-to-end, they would reach around the earth 3 times!
The origin of the MIKE AND IKE® name is a common curiosity among fans of the Brand.  Legend has it that the name came from a 1920's Vaudeville act "Mike and Ike – We look alike".  While there are many theories, the true origin remains a mystery.
MIKE AND IKE® candies have made celebrity TV appearances in Stranger Things, Jurassic World, Everybody Loves Raymond, 30 Rock, Family Guy, 13 Reasons Why, Limitless and Saturday Night Live.
Some famous MIKE AND IKE® fans include Paul Rudd, Jimmy Fallon, Marc Jacobs, Anna Kendrick, Chris Pratt, Landon Collins, Taye Diggs, Steven Spielberg, Venus Williams, Karl Anthony Towns, and Alex Rodriguez.
In 2015 MIKE AND IKE® launched the wildly popular Mega Mix, a ten-flavor variety of fruity chew candies, and recently added MIKE AND IKE® Mega Mix SOUR! to its lineup -which is the brand's MOST Sour candy yet!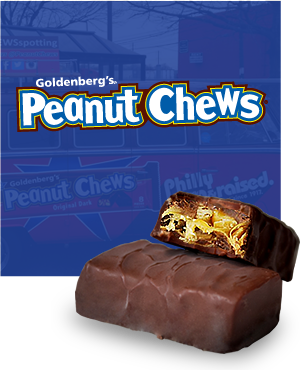 GOLDENBERG'S® PEANUT CHEWS®
GOLDENBERG'S® PEANUT CHEWS® Brand candies were first made in Philadelphia, PA by the Goldenberg family in 1917.
GOLDENBERG'S® PEANUT CHEWS® Brand candies were developed during World War I and used by the US Military as a rations bar. The high-energy, high-protein recipe and unique taste made it popular with the troops.
GOLDENBERG'S® PEANUT CHEWS® was one of the first candy bar brands to offer sharable bite size pieces for portion control and convenience.
GOLDENBERG'S® PEANUT CHEWS® are gluten free, and the Original Dark flavor is a popular treat with those following a vegan diet.
44,000 pounds of fresh, whole peanuts are used weekly at the GOLDENBERG'S® PEANUT CHEWS® facility, which still resides in Philadelphia, PA.
Approximately 1.2 million GOLDENBERG'S® PEANUT CHEWS® candy pieces are produced each day.
Some famous GOLDENBERG'S® PEANUT CHEWS® fans include Bruce Willis, Ted Leo, Neil Diamond and Barbra Streisand.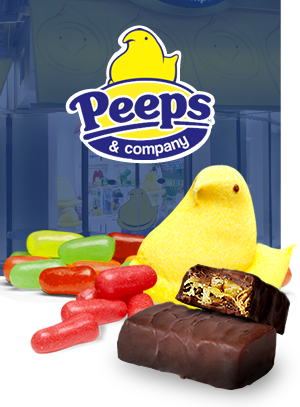 PEEPS & COMPANY®
In 2011, PEEPS & COMPANY® launched its NEW online store at www.peepsandcompany.com, featuring candy and merchandise from their signature candy brands, PEEPS®, HOT TAMALES®, MIKE AND IKE® and GOLDENBERG'S® PEANUT CHEWS®.